Qbox can be used to share your files with yourself at work, at home, or anywhere with internet access. To install Qbox and access your folders/files on multiple computers you will need to create a separate Qbox account using a unique email address for each computer. Follow the instructions outlined below if you have multiple desktop computers, laptops, or tablet PCs on which you would like to use the Qbox Explorer. Please note, the Qbox Explorer can only be installed on Windows devices at this time.
You will first need to identify if you are going to use the account on the additional device as a Shared User or as a Team Member of an existing Team (note: Team Members working remotely will not be able to work in Qbox MU mode). Shared Users will need to be invited to each Sync folder individually, while Team Members will automatically have access to all of the Team Owner's Sync folders. A Shared User can use an email from any domain, public or private, but if you are creating an account that will be a Team Member, that email's domain must match the private domain of the Team Owner. You may need to consult with your IT professional or whoever manages your company's private email domain to create additional email addresses to be used as a Team Member. To read more about Team Members, click here. To read more about Shared Users, click here.
Once you have the email address(es) prepared to be invited to Qbox, please proceed to invite the email(s) as a Shared User or Team Member and install the Qbox Explorer on your additional computer(s). For more information about inviting users to a Sync folder, click here.
Shared User Invite
To invite a Shared User, log in to the Qbox website (www.coraltreetech.com/qbox) with the folder owner account and locate the folder(s) you want to share. Invite Shared Users by clicking the green share icon next to each folder you wish to share. Shared Users can have any email domain, public or private. Select a permission and click 'Send Invitation'. For more information on the available permissions, click here.
Team Member Invite
To add Team Members, please log in to the Qbox website (www.coraltreetech.com/qbox) with either the Team Owner account, or a Team Member with Admin permissions account, and select 'Admin' near the top-right corner of the page.
On the far-left pane, select 'Manage Team Members'.
Here you can add the emails of additional Team Members. Please note, they must have the same email domain as the Team Owner.
Once invited, the new email address(es) will receive an account setup link from Qbox to complete the brief account registration process, followed by the installation of the Qbox Explorer desktop application itself. Set up your Qbox account, then download and install the Qbox Client/Explorer (please click here for Download Instructions). When prompted, please log in to the Qbox Explorer desktop application with the new email address intended for use on the additional device. Then select a folder location for the Qbox folder.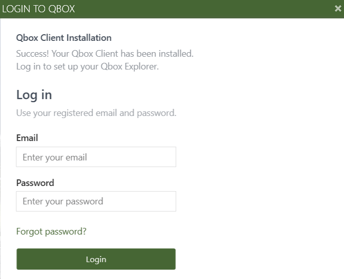 Please login with the newly created email ID and password
Qbox will start and automatically begin syncing down any shared folders and files that the new account has access to. Please allow a few moments for this to complete; this may take some time depending on the total quantity and size of the files, as well as the local internet speed.